Description
Donna Devlin Designs walking vests are designed to alleviate the pulling and strain on the delicate neck area associated with traditional collars and harnesses by distributing the pull to the strongest part of the dog's body. Each walking vest closes with adjustable tabs while reinforced stitching ensures safely and security. The sturdy nickel plated D-ring on the back of the walking vest makes it easy to attach your leash and is placed correctly at the mid rear of the harness. This is exactly where the pressure should be.
Our walking vests are so soft and lightweight, your dog will feel fabulous and you get to look at something stylish for a change. Pair with a matching leash and our soft collar for i.d tags and you and yours are ready to go out and be the talk of the town.
Walking Vest Sizing Tips:
"Making sure everything fits correctly is important"
*There are no standard sizes for pet clothing and accessories. We highly recommend you measure your pet precisely to ensure an accurate fit.
*Measure comfortably the entire distance of the neck and around the chest.
* Soft tape measures are recommended. If you do not have a soft tape measure, try using a piece of string and then measure the string with a ruler.
* Make sure your is standing.
* For dogs who have broad chests or thick coats, order one size larger.
* If your pet's measurements fall in between two sizes, we suggest ordering the next size up.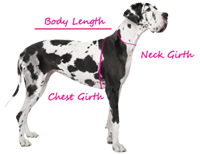 | | | |
| --- | --- | --- |
| Size | Girth | Neck |
| MINI | 10-12″ | 6-8″ |
| XS | 12-14″ | 7-8″ |
| S | 13-15″ | 9-10″ |
| M | 16-18″ | 12-13″ |
| L | 19-22″ | 14-15″ |