Complete Designer Sets For Your Pampered Pets
Donna Devlin Designs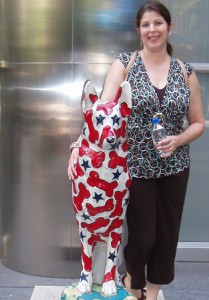 Donna Devlin DesignsMany of my customers have asked how I came to create Donna Devlin Designs. I have been an artist and entrepreneur for over 25 years. I owned a boutique in Naples, Florida where I designed a line of pet products such as dog beds, collars, leashes and harnesses. This is where one of my customers informed me of the problem of Tracheal Trauma that can be associated with the use of leashes being attached to dog collars worn around the neck. It broke my heart to learn Tracheal Trauma is not common knowledge among dog owners. After researching Tracheal Trauma and speaking with several vets and dog trainers it was clear to me that my mission was to make people aware of this sad yet easily preventable problem. Dog collars are still extremely important for the necessity of dog tags and identification.
I combined my business and design experience with my mission to prevent Tracheal Trauma to create our light weight, fashionable and comfortable walking vests and step-in-harnesses for the safety of your pet. You can feel confident when choosing a Donna Devlin Designs as each piece is carefully tested for strength of fabric for the weight and size of your four-legged pet. I am proud to say that all of our products are Made in America.
Tracheal collapse, obstructive upper airway disease
Tracheal collapse, collapsing trachea Overview: Small breed dogs are particularly susceptible to a condition called tracheal collapse. The tracheal rings, which are made of cartilage, can become weak and fail to keep the trachea open during breathing. When the trachea collapses, air is no longer able to move through the respiratory tract.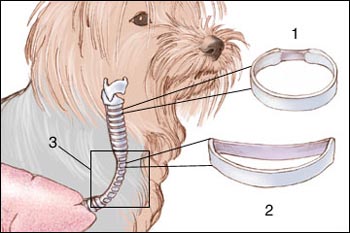 Depending upon the Tracheal collapsestage of respiration in which the collapse occurs, air may become trapped within the lungs or blocked from entering them. A collapse is more likely to occur when the animal is moving air within the airways at a faster rate than normal, or if there is added pressure around the outside of the trachea.
Excitement, exercise, obesity, and allergies are factors that may incite tracheal collapse.
1. Normal Tracheal Ring
2. Collapsed Tracheal Ring
3. Collapsed Trachea.