Designer Walking Vest for Dogs
Click here too see our complete line of Designer Walking Vests
WHERE FUNCTION MEETS FASHION
Why Use A Walking Vest?
Donna Devlin Designs Walking Vests alleviates the pulling and strain on the fragile neck area associated with traditional collars and harnesses by distributing the pull to the strongest part of the dog's body.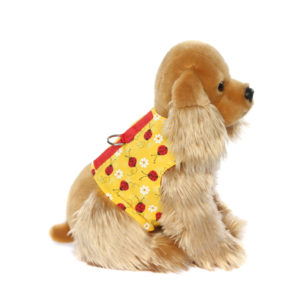 It is recommended by veterinarians and trainers to avoid using a collar for walking smaller breeds. Our Walking Vests are the safe alternative to using a collar/ leash combination on your little dog. The tendency for these dogs to develop tracheal problems from using a collar is higher since their tracheas are so delicate.  Our Walking Vest takes the pressure off the delicate throat of your dog and disburses the pressure evenly throughout the chest area. The choke free advantage eliminates gagging, choking, and coughing.  Each Walking Vest closes with adjustable tabs while reinforced stitching ensures safely and security. The sturdy nickel plated D-ring on the back of the Walking Vest makes it easy to attach your leash and is placed correctly at the mid rear of the harness. This is exactly where the pressure should be. Our stylish walking vests are designed to relieve pressure from your pet's throat.
Donna Devlin Designs walking vests are extremely sturdy and durable yet lightweight and very comfortable. Every Donna Devlin Designs Walking Vest is handcrafted with premium cotton fabrics which are therefore less abrasive than mesh. This design element is much softer and gentler on your pet. Our fabrics are bright, colorful and lots of fun. A tab at the front and under the body makes it quick and easy to put on and take off.  Each Walking Vest is meticulously stitched and finished with a nickel plated D-ring securely attached to a beautiful coordinating ribbon. Pair with a matching leash and soft collar for i.d tags and you and yours are ready to go out and be the talk of the town.
Our Walking Vests are so soft and lightweight, your dog will feel fabulous and you get to look at something stylish for a change.  These pieces are as stylish as they are practical.  Be sure to consider the matching leash!
(Walking Vest use is recommended only for small or well-trained dogs. If your dog is a tugger, squirm-er or a puller we recommend the step-in-harness. )
Walking Vest Sizing Tips:
"Making sure everything fits correctly is important"
*There are no standard sizes for pet clothing and accessories. We highly recommend you measure your pet precisely to ensure an accurate fit.
*Measure comfortably the entire distance of the neck and around the chest.
* Soft tape measures are recommended.  If you do not have a soft tape measure, try using a piece of string and then measure the string with a ruler.
* Make sure your dog is standing.
* For dogs who have broad chests or thick coats, order one size larger.
* If your pet's measurements fall in between two sizes, we suggest ordering the next size up.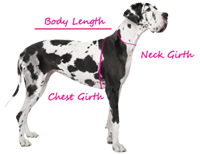 | | | |
| --- | --- | --- |
| Size | Girth | Neck |
| MINI | 10-12″ | 6-8″ |
| XS | 12-14″ | 7-8″ |
| S | 13-15″ | 9-10″ |
| M | 16-18″ | 12-13″ |
| L | 19-22″ | 14-15″ |
Care Instructions:
Our products come out nice and clean when placed in the washing machine on gentle cycle. Lay flat to dry.  To prevent unnecessary fading and better preservation of the fabric, we recommended hand washing in cold water and air/line drying.
Features:
*Designed to relieve pressure from your pet's sensitive throat.
* Reinforced contrasting grosgrain holds D-Ring securely in place.
* Made of colorful lightweight cotton fabrics.
*Velcro in front and at tummy is fully adjustable.  Attach the leash and off you go!
*Easy on and off
*Washable
* Designer suggests choosing larger size if on the upper end of one size.
* Donna Devlin Designs walking vests are proudly made in the USA.