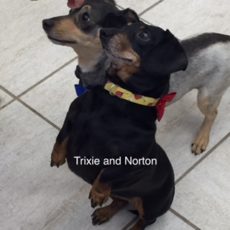 Maddie is modeling a Donna Devlin walking harness, designed to prevent tracheal trauma. If your pup's a tugger, these harnesses prevent damage to the sensitive throat area.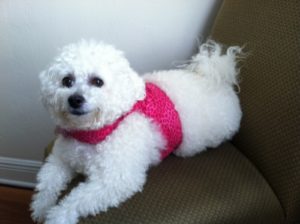 ---
Newspaper and Magazine  Articles: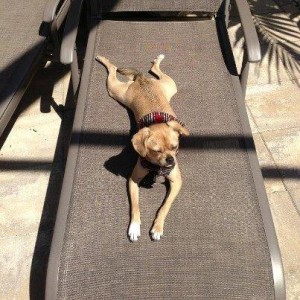 Donna Devlin, well-known Neapolitan artist and entrepreneur, has been designing pet products for years. Her stylish collars, leashes and harnesses are highly sought after, but it's her concern for your dog's health that makes the Walking Vest the highlight of her collection.
Donna Devlin is a local artist in Naples, Florida, who has made it her mission to create awareness of tracheal trauma, an issue faced by many dog owners using conventional collars on their pets. Donna's collection includes a beautiful range of step-in harnesses and walking vests which are designed to avoid any pressure on your dog's trachea, thus avoiding tracheal trauma.  Her harnesses, vests and collars are complemented by leashes in matching colors and patterns, so you pet can be safe and fashionable. And her products are washable!
---
Veterinarians:
As a certified veterinary technician I am always glad to see when a manufacturer addresses health issues and injury prevention in pet products.  Donna Devlin Designs makes products that are fashionable, as well as functional and comfortable for their pets.
Veronica M.
---
Customers
Donna, it was great meeting you today; Axel and I LOVE your products! He was a total ambassador for your vest & leash today at the mall. I sent 2 Yorkie families over to your shop. Thanks again from both Axel and me! Meschelle in  Indianapolis.
---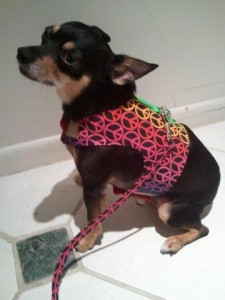 Donna,
I'm the snowbird who recently brought home bandannas with a Florida theme.(shells and flamingos)  The two that I brought home for my "grand-dog"  have been worn repeatedly and have received many compliments from other dog owners here in Toronto.  Love your line.
Thanks!
Irene
It is also comforting to know that he will teach others about tracheal trauma prevention.
"The Duke" Dicaprio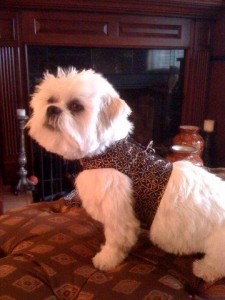 ---
Hi Donna,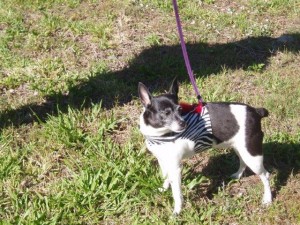 Buffy is all fitted out and she and I are both pleased.  In fact, I had expected her to claw or bite at the harness initially, or at least until she got used to it.  But there has been none of that at all.  She acts as if she isn't wearing it at all….so it must be very comfortable to her.
Rest assured that you have a satisfied customer.
Sheila
---
I purchased a collar and leash from Dr. Randy Eisel's office last week for my 26 lb Cavalier King Charles Spaniel.  It is the peppermint candy print for Christmas.  We are going to St. Louis for 3 weeks and I will be driving with him.  I really like your products!!  Thanks.
______________________________________________
The walking vests arrived this past week.  Very happy-fits my dog Peanut perfectly& looks so cute on her.  I'm sending the 2 others to my sister tomorrow.
Thanks again!
Kristy G.
---
Dear Donna,
I received the 3 harnesses for my 3 dogs.  The step-in harnesses are so cute.
They fit great and we will be going for a walk when it is cooler outside.  None of them objected to wearing the new harness.  In fact, they were very still while I fitted them.
Sincerely,
Judy W.
——————————————————————————–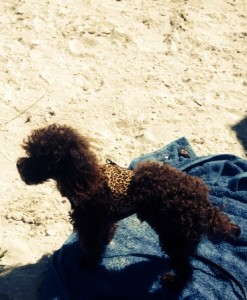 ---
My Maltese mix, Busby, proudly wears your Tutti Frutti collar and leash.  Since he pulls so much on his walks, I'd like to have a harness that matches.  Do you have a Tutti Frutti harness for a seven-pound pooch?
Thank you!
Marci S.
---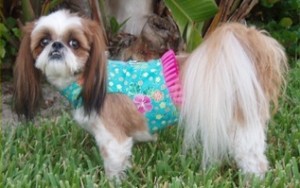 I have the Tropical Punch Vest.  I get so many compliments for it.  I would love to have a "change of clothes" for her.  Love the ruffle.
Thanks,
Elsie B.
---
Hello Donna,
I was so excited to see your designs!!! I bought my cocker spaniel your cheetah harness, leash and collar and matching bows.. I LOVE THEM.. you have an incredible product. Its the best quality I've ever purchased.
Dawn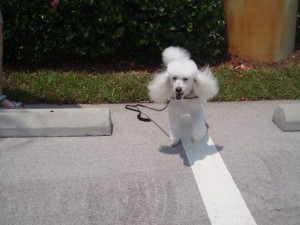 ____________________________________________
Goliath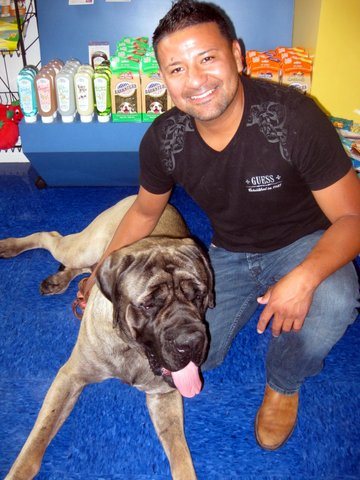 Goliath's father weighed 250 pounds full grown, but at 18-months old Goliath is only 185 pounds, and Erik thinks he won't get quite as large as his dad. Maybe just 220 pounds!
Erik was pleasantly surprised to find we had a selection of Donna Devlin designer dog collars that would fit Goliath. They chose the colorful 'Walk in the Park' pattern—a design that features black paws on a bright red background.
A stunning choice for handsome Goliath.
---
Donna,
I love these collars and they are the only ones that stand up to my french bulldogs. Great quality, adorable, and washable.
Thx sooo much,
Gayle J.  Violet and Daisy
Palm Beach Gardens,FL
---
June 2015
Hi Donna,
Thank you so much again. That pattern is so perfect for summer. He currently has A Walk in the Park. I also have Tutti Frutti .
I am totally hooked on your products.
---
Just wanted to let you know that we sold a Garden Party harness today. The customer was looking at several others and then saw yours and said, "Oh that's it! That's the perfect one!"
So you made someone's day.
Take care,
Stephanie
---
I originally bought another type of harness and Charger kept getting free. Your design REALLY works.
MARILYN E
---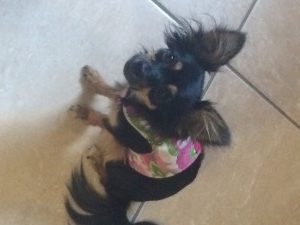 I do want the vest. My vet suggested it. Shes a puppy and its what I've been searching for .
Sincerely
Sharon s
---
It would be great if you could ship it Friday, we're going on a trip Tuesday and our Yorkie recently began having issues with collapsing trachea. Our research convinced us your product was what we need to try.
Barbara T.
_______________________________________________________
I am a repeat customer, and your step-in harness has made all the difference in the world for our Toy Fox Terrier!
Thank you for creating such a wonderful product!
Kaye R.
______________________________________________________-
With two small dogs I am a huge fan of your step-in harnesses. I love the fabric and the softness of your harnesses and leashes. They're like no others and I would not use any other harness or leash on my little girls.
Julie P.
_______________________________________________________
January 2022
I've bought from you before . Your harness last! Far superior durability and latches. Plus he always gets compliments on his harness! I'm buying the same design!
W.L.    Punta Gorda,FL